11th March 2022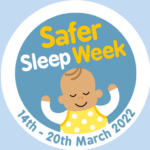 In support of Safer Sleep Week (14-20 March), National Sleep Awareness Week (13-19 March) and World Sleep Day (18 March), we share a Voices blog by Maggie Fisher, Professional Development Officer iHV.
It is Safer Sleep Week, sleep awareness week and World Sleep Day during March. These dates are annual events which are intended to be a celebration of sleep and all things sleep related, and used as a call to action to highlight the importance of sleep and sleep-related issues.
For health visitors, midwives and all healthcare professionals who work with parents-to-be and parents with young babies, it is a good time to remind ourselves about the importance of sharing information on safe sleep at every contact. The sudden and unexpected death of a baby is one of the most devastating things that can happen to a family, and our hearts and thoughts go out to any family who has experienced this. Anything we can do to prevent such deaths occurring lies at the heart of the preventative work we do.
Safe sleep messages need to start early in pregnancy before products are bought for the baby to sleep in or bought by others as gifts. Products that don't comply with evidence-based safer sleep advice are not recommended and could increase the risk of sudden infant death syndrome (SIDS) or accidents occurring.
In 2019, there were 196 unexplained infant deaths in the UK. Sudden infant deaths accounted for 59.5% of unexplained deaths, according to the latest figures from the Office for National Statistics. The May 2021 Child Mortality and Social Deprivation Report from the National Child Mortality Database (NCMD) confirms a clear link between social deprivation and sudden infant death syndrome (SIDS). The concerning headline finding is that a fifth of all child deaths might be avoided if children living in the most deprived areas had the same mortality risk as those living in the least deprived areas.
A survey carried out by the Lullaby Trust in November 2021 found that 41% of parents have been given a potentially unsafe sleeping product for their baby. Worryingly, they also reported that 28% of parents did not know how to check if the sleeping products they received met with the British Standards. A further 17% did not know how to check if second-hand products they bought for their baby were safe either. The Lullaby Trust has excellent resources on choosing  safe baby sleep products for parents.
The iHV was recently alerted to the death of a baby associated with the use of a Moses basket above the recommended age. At least one recent death recorded in the National Child Mortality Database (NCMD) is attributed to risks such as rolling and subsequent entrapment. Health visitors are reminded to be mindful of the risks associated with the use of a Moses basket.
In view of this, we have updated our Parent Tips on Safer sleep for your Baby and are advising health visitors and their teams to be mindful of this when talking to parents about the use of Moses baskets.
During sleep awareness week, I am thrilled to be presenting at the World Sleep Congress Symposium taking place in Rome from 11-16 March. Two of the international team from Canada and one other from the UK will be sharing emerging findings from the systematic review of risk and protective factors of behavioural infant sleep problems during the first 6 months of life.
Maggie Fisher, Professional Development Officer iHV
World Sleep Congress (Rome 11-16 March 2022). World Sleep Society is a non-profit, professional membership organization dedicated to advancing sleep health worldwide https://www.worldsleepsociety.org
Further resources on sleep  
References
Office for National Statistics August 2019 Unexplained deaths in England and Wales 2019 – latest release. Accessed 15 February 2022
The Lullaby Trust November 2021 Cot death charity urges caution around receiving potentially unsafe baby sleep products this Christmas Accessed 15 February 2022
National Child Mortality Database May 2021Child Mortality and Social Deprivation Report Accessed 15 February 2022