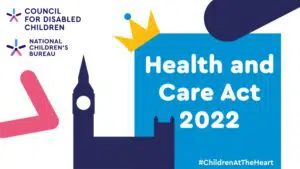 The Health and Care Act 2022 was given Royal Assent today and puts children at the heart of NHS integrated care. The Health and Care Act 2022 will change the way that services are planned and delivered by the NHS, local authorities, and other key organisations.
The iHV has been a member of the Health Policy Influencing Group (HPIG) which is hosted by the National Children's Bureau (NCB) and the Council for Disabled Children (CDC). HPIG membership spans across 70 leading organisations who represent a strong, independent voluntary and community sector voice for babies, children, and young people (CYP) aged 0-25 years. After nearly a year of collaboration, determination and hard work, babies and CYP are now at the heart of the Health and Care Act reforms.
Alison Morton, iHV Executive Director, said:
"Today's Royal Assent of the Health and Care Act is a cause for celebration, representing a significant step towards improving health legislation for babies, children and young people. We were delighted to work with others as part of the Health Policy Influencing Group and support the drafting of the amendments to the Bill as it progressed through Parliament. This positive movement for change has been instrumental in bringing greater recognition of children's needs (including babies) within the final Act. I would like to thank colleagues at the NCB who do a brilliant job leading the HPIG and all the members of the group that were instrumental in making these changes."
The Act introduces two-part statutory Integrated Care Systems (ICSs), comprising an integrated care board (ICB), responsible for NHS strategic planning and allocation decisions, and an integrated care partnership (ICP), responsible for bringing together a wider set of system partners to develop a plan to address the broader health, public health, and social care needs of the local population.
The most significant change relates to the expectations of the 42 ICBs that are replacing Clinical Commissioning Groups (CCGs) across the country from 1 July. The Act sets out the steps it will take to address the needs of babies and CYP under the age of 25 in their five-year forward plans.
Further positive changes include:
New statutory guidance, which will be produced by NHS England, will require ICBs to nominate an executive children's lead, responsible for ensuring the ICB sets out clearly the steps it will take to address the needs of babies and CYP.
NHS England issuing statutory guidance which will include a statement that each ICB must nominate an executive children's lead, ensuring leadership for babies and CYP on every ICB.
ICBs reporting annually on how they are delivering their child safeguarding duties.
Steps to improve information sharing to better support children and keep them safe. 

The Government has acknowledged serious and distinct challenges around the sharing of timely and relevant information about children between agencies, particularly vulnerable children, and has committed to delivering change in this area. The Government will now lay a report before Parliament within a year, setting out:

A policy on a consistent identifier for children and its approach to improving information sharing more generally.
How this can be achieved across health, children's social care, police, and education settings.
Cross-government actions that will be taken to implement the policy set out in the report.
Much more work is needed in this area and HPIG plans to support the implementation of this, alongside more detailed policy development. However, the Act represents a fantastic achievement, ensuring that babies and CYP are at the heart of integrated care, and this is something which needs to be celebrated!
The iHV would like to express a heartfelt thank you to the NCB and CDC for leading this important work. We are proud to be members of the HPIG and look forward to continuing our work as part of this group, providing a united voice for babies and CYP, now and in the future!