8th September 2017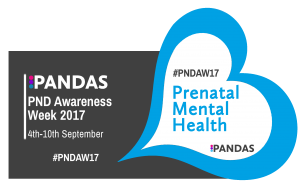 A blog written by Anwen Evans, Specialist Health Visitor for Infant and Perinatal Mental Health at Southern Health and iHV Perinatal Mental Health Champion, in support of PANDAS Foundation's second Pre and Postnatal Depression Awareness Week #PNDAW17 –  4 to 10th September 2017.
The Royal College of Midwives (RCM) published a report on the 17th July 201, entitled "Every mother must get the help they need".  To launch the report they held a roundtable discussion at Asia House, London. As a Specialist Health Visitor in Perinatal Mental Health and member of the iHV, I was offered the opportunity by the iHV to attend to learn more and contribute to the discussion.
The report came about following the tragic death of Lucie Holland's sister, Emma Cadywould, who died as a result of her battle with postnatal depression.  Emma gave birth to her son in June 2011. Within weeks of giving birth Emma became extremely anxious, unable to make simple decisions and became forgetful and clumsy – all of which were out of character for Emma.  Gradually over the following 3 months, Emma's mental health deteriorated, often being excused as "she's tired", or "she's a new mum".  Despite Emma's deteriorating mental health, she continued to keep up her routine of being perfectly turned out, appearing to be well to those around her.
Emma kept her deteriorating state away from her family, until eventually she suffered a breakdown. Emma disclosed thoughts of harming herself and her son, which led to her being referred to the mental health crisis team. Despite her disclosures and endless cries for help Emma remained at home and was treated in the community. Her notes stated that "she made good eye contact" and was "well presented" – all common misconceptions of how a person with severe mental health problem should present.  In December 2011, Emma took her own life. NHS England has since admitted a legal breach of duty of care for failing to provide timely specialist maternal mental health support.
Lucie Holland, Emma's sister, started a petition to raise the profile of perinatal mental illness and to better understand what needed to be done to improve and better support those women who suffer in silence or are afraid of speaking out. The petition received 55,169 signatures, and, of those who signed, 6,989 left comments.
It is well documented that that maternal suicide is the leading cause of death in the first year after childbirth (MBRRACE-UK 2015). It is estimated that 1 in 4 of the deaths that occur in females between weeks 6-52 weeks postnatally are from mental health-related causes.  Throughout the discussions it was acknowledged that there is a lack of parity of esteem between physical health and mental health.  Dr Ian Jones highlighted that all professionals need to be aware of their responsibility to bring about change of how we, as professionals, respond to perinatal mental illness and influence those around us to raise parity of mental health.
Dr Trudi Seneviratne shared her concerns that stigma of perinatal mental illness continues to be a barrier, which prevents women from seeking the support they need.  Further calls were made for clear and honest information to be given out to women and their significant others about perinatal mental illness.
It was highlighted how valuable the role of the health visitor was in detecting and supporting women and their families when perinatal mental illness is suspected.  The continuity of care, that health visitors are able to offer, make it more likely that women will disclose how they are feeling.  Communication between GP/ Health visitors was highlighted as an area that requires improvement in some areas, however there were very good examples of best practice across the UK.  The iHV was acknowledged for their champion training of perinatal and infant mental health.  Suggestions that other stakeholders (midwives, social care) should have access to mandatory training in perinatal and infant mental health to better care for the families they work with.
Lucie Holland's petition allowed a thematic overview of the 6,989 comments left.  It was found that antenatal education needed to reflect not only the physical aspects of pregnancy but raise awareness of perinatal mental health, to start difficult conversations and tackle the stigma associated.  It was suggested that all women identified with perinatal mental illness should have a care plan alongside their birth plan to set out parity of esteem.
Having an equitable accessible service in place to support women and their families who are identified with perinatal mental illness, regardless of the type or severity of mental health problem, should be not seen as the exception.  It should be a service that is embedded within the core package of what we offer across the NHS.
The roundtable generated discussion about how we can improve our services through better collaboration, communication, and involvement of stakeholders and those with lived experiences will enable better co-design of services.
One of the parting comments made during the discussion by the RCM which really made me think on a personal and professional level, " All services should hold a mirror up to look at the care we provide women with perinatal mental illness"
Further information can be found on: https://www.rcm.org.uk/sites/default/files/RCM_Perinatal%20Mental%20Illness_A4%20report_final.pdf
The roundtable participants
Louise Silverton – Director of Midwifery, Royal College of Midwifery (RCM)
Janet Fyle – Professional Policy Advisor (RCM)
Maria Bavetta – Everyone's Business Campaign
Professor Lesley Regan – Obstetrician gynaecologist and the President of the Royal College Obstetrician and Gynaecologists (RCOG)
Dr Trudi Seneviratne – Perinatal Psychiatrist, Associate Clinical Director, SLaM, Chair Perinatal Faculty Royal College of Psychiatrists
Rebecca Dawson – National Clinical Lead in Mental Health and is a Fellow of the Higher Education Academy
Dr Judy Shakespeare – Royal College of General Practitioners (RCGP) clinical lead for maternity
Professor Ian Jones – Professor of Psychiatry and Honorary Consultant Perinatal Psychiatrist at Cardiff University
Professor Jacqueline Dunkley Bent – Head of Maternity, Children and Young People at NHS England and National Maternity Safety Champion for the Department of Health
Katrina Ashton – NHS Psychotherapist
Cara Evans – Student midwife from the University of Nottingham
Dr Louise Harding – Public Health Registrar. Campaigning to increase perinatal mental health services
Shabria Papain – Best Beginnings
Dr Stephanie de Giorgio – GP from Kent.  Perinatal mental health campaigner
Rowan Davies – Head of Policy and Campaigns at Mumsnet
Dr Jane Hanley – Past president of the International Marce Society for Perinatal Mental Health
Obi Amadi – Lead Professional Officer for Community Practitioner and Health Visitors Association (CPHVA)
Anwen Evans, Specialist Health Visitor for Infant and Perinatal Mental Health at Southern Health