30th June 2021
The iHV is delighted to see the #MakeAllCareCount Campaign launched today by the Maternal Mental Health Alliance (MMHA).
Melita Walker, Mental Health Lead at iHV, said:
 "As long-standing active members of the Alliance it has been brilliant to work alongside the fantastic MMHA team and wider Alliance members to help shape the call for a truly integrated system of perinatal mental health care. Family mental health is complex, mental health needs are an enormous public health challenge. The Pandemic has increased the mental health risks for new parents and the already-stretched services supporting their mental health during the perinatal period, so the new focus of the MMHA campaign is needed now, more than ever".
The #MakeAllCareCount Campaign is calling for:
All women and families across the UK to have equitable access to comprehensive, high-quality perinatal mental health (PMH) care, including and beyond specialist PMH services.
This includes:
A confident, well-equipped workforce delivering excellent, safe PMH care and support.
Care for all women, including those impacted by inequalities
Specialist PMH that meet national standards and act as a catalyst for change within the wider system of care.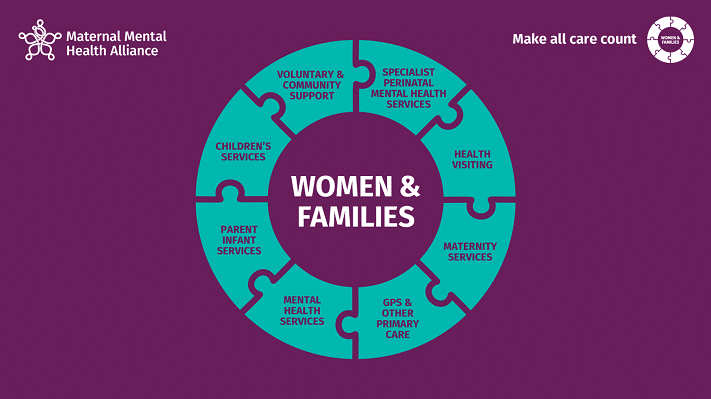 The new phase of the MMHA's work to drive change for women and families affected by PMH problems looks at the wider system, including and beyond specialist services, and how to support maternal mental health at every opportunity.
Whilst everyone who comes into contact with women before, during or after pregnancy has the opportunity to provide mental health support, 'Make all care count' highlights and defines the essential services that can dramatically affect the lives of women with, or at risk of, poor maternal mental health. Each essential service in each of the sections of the interlocking wheel above can be explored.
Defining essential perinatal mental health care: health visiting
The campaign recognises the critical role that health visitors have as part of an integrated system of care in achieving good family mental health and wellbeing.
"The campaign is a great opportunity for health visitors (and our partners) to make it clear and be recognised for what we can achieve – if we are in the right numbers with the right competence and capacity.

By making certain that all care is women and family-centred, that there is a competent and confident workforce, by working together and by recognising, liberating and strengthening the unique contribution of each individual/service -we are much more able to ensure that all families across the UK have equitable access to comprehensive, high quality PMH care."
Do join the call for ALL women and families across the UK to have equitable access to essential, high-quality perinatal mental health care and do tag us in @iHealthVisiting @MMHAlliance  #MakeAllCareCount  #EveryonesBusiness