23rd May 2022
We are very excited to officially launch our 7th iHV evidence-based practice (EBP) conference, "Together | Fairer | Stronger", which is being held on Thursday 15 September 2022 at King's House Conference Centre in Manchester.
We are pleased to announce that this will be our first face-to-face conference since the start of the COVID-19 pandemic. We are all looking forward to being able to meet again, network and share ideas together.
The theme of this year's conference is reducing health inequalities, whilst promoting health visiting and strengthening its role in tackling current public health priorities, and improving outcomes for babies, children, and families.
---
Programme & Speakers
Our conference programme brings together local, national, and international experts and speakers who are focused on strengthening health visiting practice through sharing the latest evidence, research, and practice examples. The presentations and workshops will reflect the breadth of health visiting practice, within a "whole system" public health approach, to equip health visitors to address key challenges in prevention and earliest intervention work with babies, children, and families.
"We look forward to welcoming you to Manchester in September 2022 to explore the latest evidence-based practice and research on key public health priorities for health visiting. Everyone is welcome as we come together again, in person, to share best practice and research – let's build on the present to help shape the future of health visiting and tackle inequalities. We look forward to welcoming as many of you as possible."

Alison Morton, Executive Director iHV and Conference Chair
Featured speakers include:
Tash Oakes Monger – National LGBT Project Manager, Nursing Directorate, NHS England and NHS Improvement: Improving Transgender and non-binary people's experiences
Dr Aoife Molloy – Infectious Diseases, Royal Free Hospital London – Senior Clinical Advisor Healthcare Inequalities Improvement: Health inequalities
Kenny Gibson MBE Deputy Director – NHS Safeguarding NHS England and NHS Improvement: Trauma-informed practice
Professor Ruth Endacott – Director of Nursing & Midwifery – National Institute for Health and Care Research: Evidence-based Practice
Charmaine Abdul Karim – Expert by lived experience: I am a Gypsy (How revealing your cultural Identity can set you up to be failed) 
Jim McManus – President, Association of Directors of Public Health UK – Executive Director of Public Health| Public Health Service Hertfordshire County Council – Visiting Professor of the University of Hertfordshire: Poverty and wellbeing and integrated systems/working
---
Presentation Topic
Our programme focuses on sharing best practice examples and research to improve health visiting practice. This conference will provide a much-needed time for reflection and learning from the COVID-19 pandemic and its impact on babies, young children and their families, and the services that support them.
---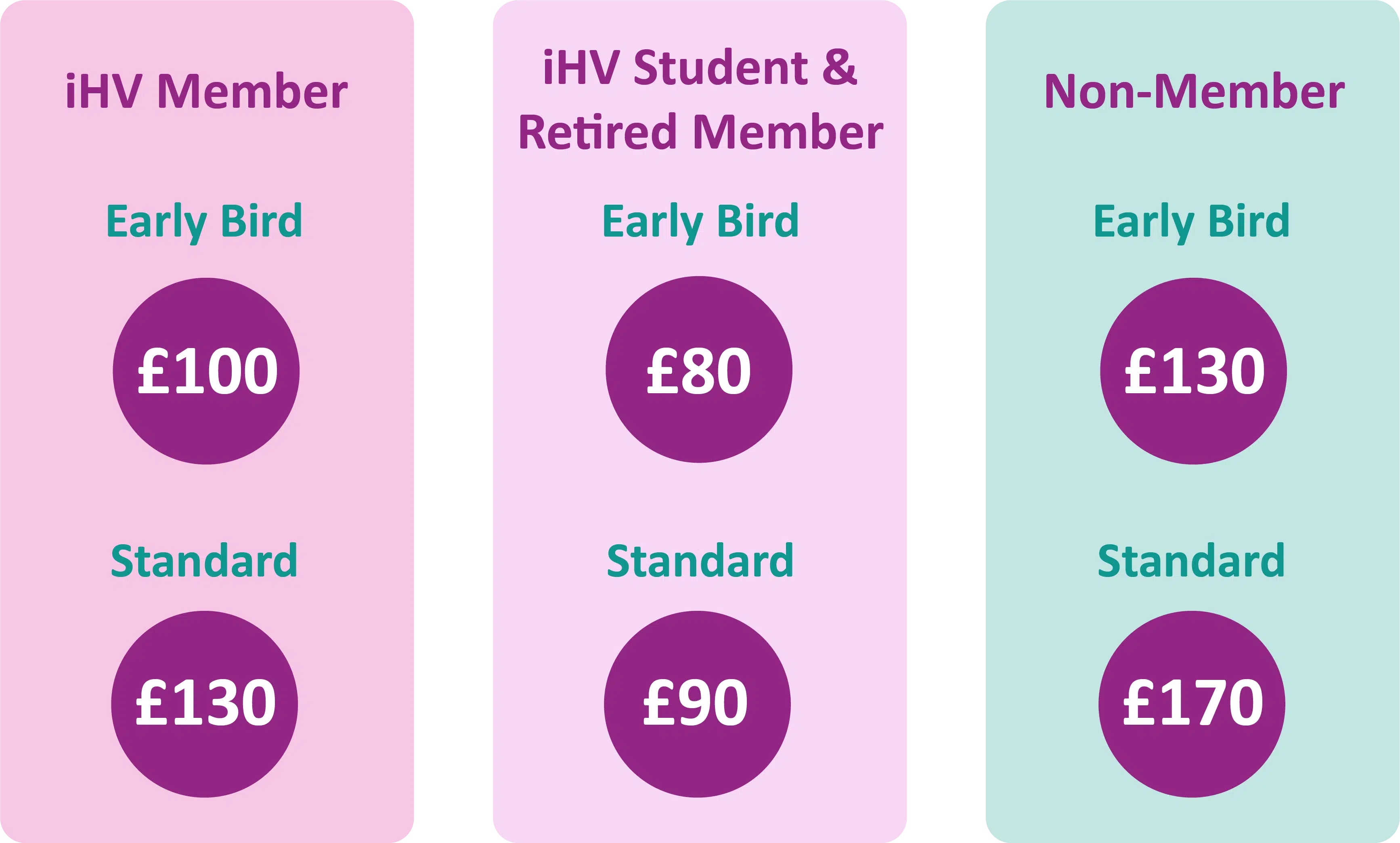 How to book
If you are an iHV Associate member, SCPHN Student member or a retired member, ensure you have your membership number ready to use as a discount code to secure your iHV member discount rate and go to the online booking link below.
If you are an iHV member but you do not know your membership number, please email

[email protected]

If you are not a member but would like to take advantage of our member rates, please join us today!
Click here to go to our online booking system